Why UKClimbing.com?
UKClimbing.com and UKHillwalking.com are the most popular and most read climbing, walking and mountaineering media in Europe. It has been online since 1995, has a rich and diverse content that is constantly updated, it is home to the most popular climbing and mountaineering forums in the world and has a proven brand loyalty amongst the UK outdoor community.
Some Site Statistics
74,400 people are registered at UKClimbing.com and UKHillwalking.com (User Profiles) and are regular readers (three times that number of unique visitors read UKClimbing.com each month).
On average 24,800 different people visit UKClimbing.com and UKHillwalking.com everyday.
They visit about 220,000 pages at UKClimbing.com and UKHillwalking.com every day, spending about, on average, 10 minutes at the site.
The most popular pages are the forums followed by the photo pages followed by the news page.
UKC and UKH News page gets 1,700 visits every day. It is the most comprehensive source of climbing, wlaking and mountaineering news in the UK that is updated daily.
UKC/UKH Photo gallery has 214,000 climbing photographs. See the best of them in the Top 200 Gallery.
UKC/UKH Forums are a major attraction and are split into 24 sub-forums with traffic in excess of 580,000 page views each week.
UKC and UKH Articles section is a mix of user-submitted and commissioned articles and covers the whole spectrum of the walking, climbing and mountaineering experience from country strolls, through bouldering to extreme alpinism. Our most popular articles have been viewed over 339,000 times.
UKC Logbooks section has 20,700 crags with 385,000 climbs listed, and over 4,740,000 route 'ticks' from users.
UKH Route Card is the most advanced route recording system available on the web for walkers and mountaineers.
UKC/UKH Classifieds has comprehensive lists and details of over 4,200 Campsites, Walking and Climbing Clubs, Outdoor Shops, Outdoor centres/Instructors and Manufacturers/Distributors.
UKC/UKH Gear Database and Reviews contains over 4,200 reviews and gear news from hundreds of different products.
Advertising at UKClimbing.com and UKHillwalking
Whether you are an independent outdoor shop, a gear manufacturer or distributor, a climbing wall or a mountain guide, there is no place better to make outdoor enthusiasts aware of your product or service than at UKClimbing.com and UKHillwalking.com.
You can see all our current advertisers here.
Interactive Advertising
Internet advertising is different than print advertising, and far more effective.
It creates dynamic AWARENESS of your products and services via banners, newsletter adverts, gear reviews, forum discussions and premier posts that expose your message and product/service to the largest number of readers of any climbing media in the UK.
You can EDUCATE climbers about your company and its products and services, INTERACT* with your customers, and importantly show climbers where to BUY your products and services.
Internet Advertising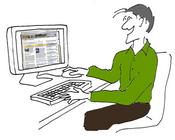 There are many ways to advertise at UKClimbing.com and UKHillwalking.com that create AWARENESS of your products and services, EDUCATE your customers, and allow you to INTERACT with your customers and importantly, the bottom line, provide an opportunity for your customers to BUY your products and services. This is a novel way of marketing but it is very effective and our advertisers have found that they recoup their advertising cost at UKC/UKH fast.
Advantages
Inexpensive advert rates.
Your advert is working 24/7.
Cost effective.
Measurable results.
You manage your account and YOU are in control.
Inexpensive and fast to create advertising copy.
You know how often your advert has been seen and how many people have clicked on it.
You can change your ads immediately if they aren't working.
Customers are just a single click away from your web site.
Ad campaigns can be up and running immediately, no waiting for copy.
You can interact directly with your customer creating an emotional bond, loyalty and sales.
Print Advertising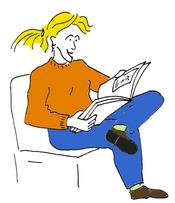 Whilst print advertising is an important part of the marketing mix, it does have its drawbacks:
Low readership (often unaudited). Magazine circulation is declining.
Expensive ad rates.
Very difficult to quantify results and effectiveness.
Expensive to produce print ads.
No or little interaction between you and your customer.
Adverts have low exposure rates to your customers.
Advert timing is dictated by the print publications: once per month, once every two months, etc.
Print ads can do little more than plant a seed in the reader's mind; they are still a long way off from learning about your product or service and many steps away from a purchase.
How does UKClimbing.com and UKHillwalking.com compare with other outdoor media?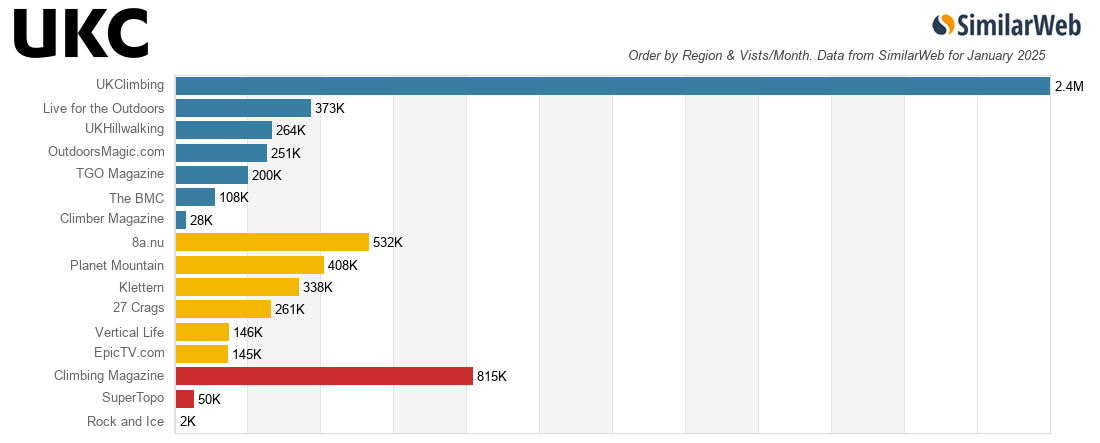 UKClimbing.com, 384,248 visitors (Nov-2016)
In Web site visitor terms, we rank consistently in the top 100,000 websites across the world and are the most popular Climbing and Mountaineering website in the World.
Alexa.com measures the traffic at websites, giving an indication of how many people visit a website, how many pages they look at and how long they visit. They then give you a Site Rank number corresponding to your position in the World ranking of Web sites (a low number is good). To the right is an image showing the relative rankings of various Climbing and Mountaineering Web sites across the World.